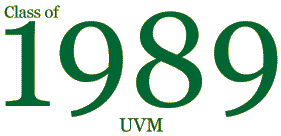 Congratulations to the 2000 Lady Hoop Cats, America East Conference Champions!
Welcome to the UVM Class of 1989 Home Page.
This Web Site is intended to help the members of the UVM Graduating Class of 1989 keep in touch with each other, to be able to see what sorts of activities are planned for the Class of 1989, and what is going on at our alma mater.
The content is these pages is constantly changing, so check back often to see if one of your old friends whom you've lost touch with has left a message, or to see if the hockey team is having a good season... or for whatever reason.
If you have any suggestions for the Class of 1989 Web Site, please email steve@saltyrain.com.